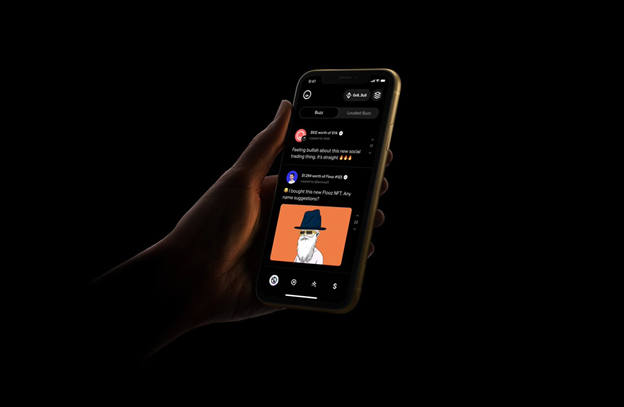 The crypto sector is awash with tokens, trading platforms, news portals, and virtual communities. Every day, members of the community are looking for the most profitable projects to invest in. Across hundreds of platforms, media and social media platforms. What if there was one place where all potential investors could get this information directly through members of the crypto community?
Introduced by Buzz by Flooz.Trade
Buzz users have a new level of trading and community interaction, unlike anything currently available in the industry. The platform is a great source of information for users who are new to the field who want to learn about trading or those who are not sure where to invest. For seasoned traders who are ready to benefit from their experience, Buzz offers them an opportunity to take the general public under their wings.
Users can think of Buzz as a crypto-focused version of Twitter, for investors and trading. Traders can take advantage of the new feature on the Flooz platform to learn what the community thinks of general trading, tokens and specific projects. Since the general market opinion of these assets can influence prices and performance, traders gain access to information directly from fellow community members. In this way, buy, sell, assign and assign decisions can be made more reliably and with valuable input from the community.
Buzz traders get an increased knowledge of other traders and trading styles. On the platform, users can Peek and Pop In the portfolios of other traders for more than a glimpse of their portfolios and trading practices. This stimulates trading transparency, and helps inexperienced people to trade like experts. In the end, traders may not initiate any activity without first researching the hype of the project.
By democratizing trading knowledge, Buzz is creating a transformation in the crypto space, with the goal of becoming a benchmark for trading activity. Traders will gain insight from watching whales invest and will be able to gauge the buzz around new tokens and projects. Eventually, tokens that have no participation may end up with little or no trading activity.
Social Commerce, Token Partnership and Verification
Buzz's social trading framework directly generates the need to validate tokens or projects. With a myriad of tokens available, Flooz.Trade is open to partnering with projects that pass the platform's due diligence requirements. These vetted projects will receive full verification and a branded page with key stats for the investor community. After verification, these projects may include Flooz.Trade on all of their websites and social media pages.
Flooz.Trade takes its mission to humanize the method of encryption far beyond just its website or app, allowing interoperability across other popular platforms such as Discord and Telegram. This expands the overall user experience, opening Buzz to traders and other community members who are already active on these other social media platforms. Users can see which tokens are the loudest from these external platforms and make trading decisions accordingly.
What is tinnitus today?
In addition to creating new opportunities for users of the platform, Buzz feature can help traders avoid losses. In many cases, both the traditional and the cryptocurrency markets feature assets that sometimes affect market sentiment. While traders can invest in tokens using Loudest Buzz, investors can use Buzz to close their positions in the crypto markets. This will prevent traders from losing money to coins or projects that do not generate enough buzz or have negative sentiment in the market. Anyone looking to get started with the next big platform in Web3 and cryptocurrency social trading needs Buzz by Flooz. Trade for real-time market information. Visit Flooz.Trade platforms for more information:
Location | Twitter | Instagram | telegram | discord | Youtube