COMMODITY
ISM services rise to record high (thanks to supply chain chaos)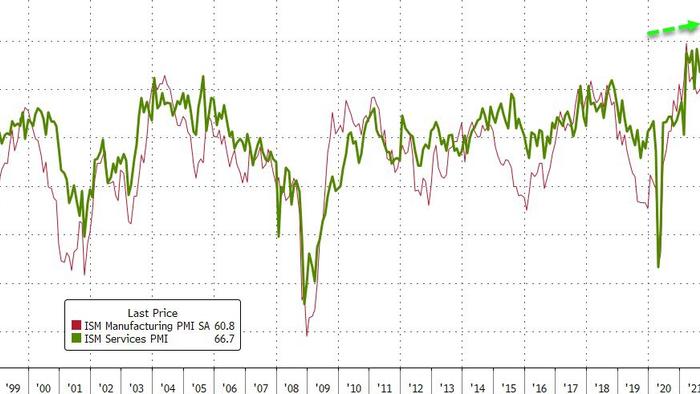 After weakness on the manufacturing side of the economy (ugly PMI, small decrease for ISM), services surveys were expected to be mixed (small decrease for PMI, small gain for ISM).
Markit services survey extended mid-month gains, It rises to 58.7 the final edition for October from 58.2 flash from 54.9 in September.

ISM services survey rose to 66.7, smashing expectations 62.0 and well above 61.9 in September.
These moves happen as dismal US macro data comes in modestly…
Source: Bloomberg
ISM services survey jumped to a new record…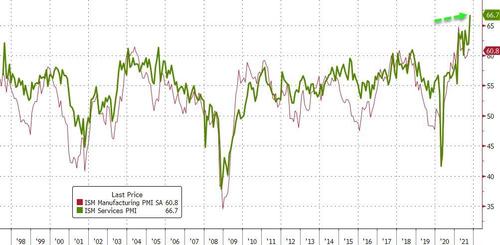 Marquette printing services are back on top of industrial printing. The difference is very clear between service activity (improvement) and manufacturing output (weakness)…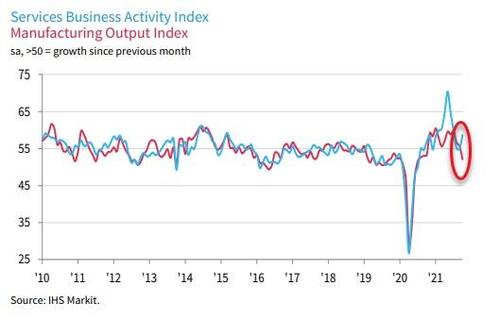 As Marquette reports, In response to the additional cost hike, companies raised their selling prices at the fastest rate ever.
Of course, all of this survey data should be mitigated by the fact that supplier delivery times for both services and manufacturing remain very high (and get worse for manufacturing).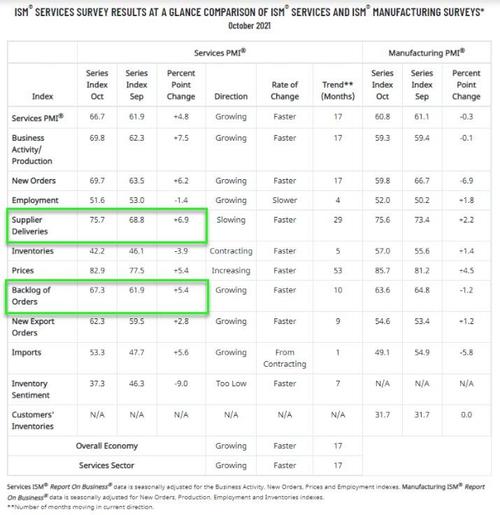 This is not a good thing… Prices, supplier deliveries and backlog at record high levels while inventory sentiment reached record low…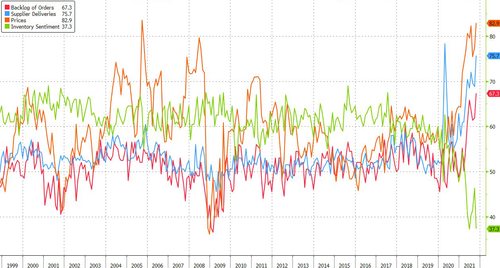 This was included in the final print edition of the survey as a positive factor (due to the historical meaning that demand is strong), however, in this case it is More related to supply chain disruptions.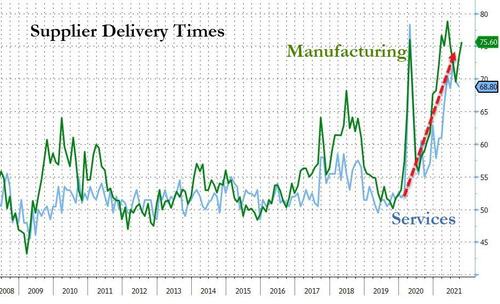 The recovery in services sparked a slight improvement in the US composite index, reaching 57.6 versus 55.0 in September…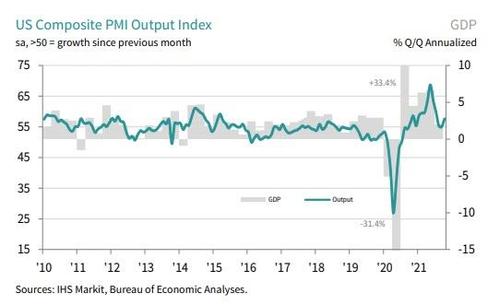 Commenting on the results of the latest survey, Chris Williamson, Chief Business Economist at IHS Markit said:
"The final PMI data adds to the indications that The US economy accelerated again in the fourth quarter. After the delta variable slowed growth in the third quarter, the easing of virus case numbers was followed by a strong rebound in economic activity, particularly in the service sector, which appears to be the driving force of the economy as we move forward. near the end of the year.

"As the service sector sees the waning impact from the pandemic, it's a different story in manufacturing, as the supply crunch continues to wreak havoc and dampen production growth.. Supply delays worsened in October, which in turn further intensified inflationary pressures.

"Going forward, The big questions will center around how well manufacturers can overcome supply chain bottlenecks, which appear to only get worse. As we approach the busy holiday period, whether the services sector is able to maintain its current resilience as the recovery from the pandemic begins to wane and incomes shrink due to higher prices."
Interestingly, on a macro level, the rate of cost inflation slowed to its lowest level in six months in October, but remained historically high amid supply shortages. Companies have passed on costs to customers, with selling prices in the private sector rising at the highest rate ever.