MSP
Get an insight into the virtual event of the Gradient Leg up '21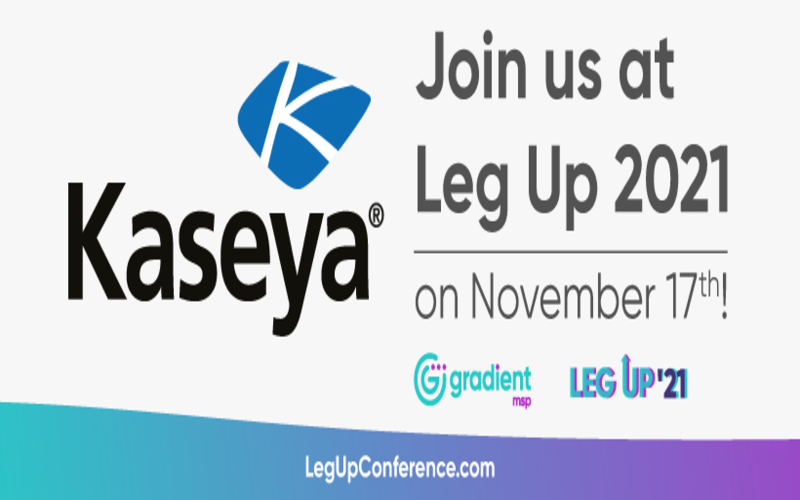 As the "new normal" takes hold, MSPs must prepare to meet the demands and requirements of their clients and learn about market trends for the changing business environment. As part of Kaseya's tradition of helping MSPs meet economic and business challenges, the company is sponsoring the first annual partner conference for Gradient MSP, "Leg Up '21," in a virtual environment on November 17.
Here's a look at what the event is all about and why you should sign up for it today.
What is Leg Up '21?
Gradient MSP hosts Leg Up '21 as an opportunity for MSPs to gain insights and knowledge from industry leaders and discover the best way to guide their businesses for maximum growth and success.
You should definitely attend the event if you feel that your MSP has reached a stabilization stage or is experiencing a slowdown in growth. The event will be an opportunity to meet experts and leaders who can help you identify valuable business opportunities and point you in the right direction. You'll hear strategies, ideas, and tactics from a panel of experts, including Kaseya's Vice President for Channel Success, Dan Tomaszewski.
There will be discussion about the future of the MSP industry, including steps MSPs can take to streamline and improve their IT channels. The goal is to establish seamless cooperation with vendor partners in order to provide the best possible customer experience even in the most challenging environments.
but that is not all. Attendees also have the chance to win many great prizes at this event.
Distinctive speakers
Here are some details about the speakers and what they will be talking about:
Colin Knox, CEO of Gradient
At the end of the keynote, Colin will introduce the highly anticipated Gradient product, Billable. It's a tool that MSPs can take advantage of to automate their resale bill settlements, saving hours of hard work while ensuring they get paid.
Dan Tomashowski, Vice President of Channel Success, Kaseya
The pandemic has dramatically changed global economies and business conditions, and although things seem to be returning to normal now, they will never be the same again. In response, companies have learned the importance of developing their IT infrastructure to handle any eventuality, with a strong focus on cybersecurity and compliance going forward. MSPs will have to adapt to these changing trends and rethink the way they conduct their business.
In his talk, Dan will look at emerging trends and pockets of growth in the MSP industry and share his predictions for the future. It will also discuss what MSPs should do to capture the next stage of growth. Don't miss this!
Henry Washburn, Director of Sales Engineering, Huntress
Cyber ​​security has been the main news for the past few years and it could continue to be so if the necessary security measures are not taken. As an MSP, you must redouble efforts to enhance your cybersecurity stack since you have to not only protect your business but also your customers from disruptive cyber attacks. In his presentation, Henry Washburn will share valuable insights into how to modernize your cybersecurity suite to defend against today's complex threats.
Joe Alabat, CEO of Liongard
Our post-pandemic world is heading towards a hybrid work environment. But what does this mean for medium-sized programs? The purpose of Joe's presentation will be to demonstrate how MSPs can identify and seize revenue opportunities while operating from anywhere.
Rex Frank, Vice President of the Academy, Pax 8
Every now and then, companies reach a stage of stabilization where even the best strategies and tactics fail to produce results. As frustrating as it can be, some common sense can help you break through your next work slowdown. In his presentation, Rex will talk about how to overcome this challenge and move forward.
next step…
Gradient Leg Up '21 is a virtual one-day event that all MSPs must attend as the year wraps up and prepare for the challenges and opportunities that lie ahead in 2022. It's easy to stay ahead of the curve and step ahead of your competition when you get a roadmap from industry experts in advance. So don't wait. Register today!
Save your seat