LOGISTICS
Bottle label applicator added to AM . range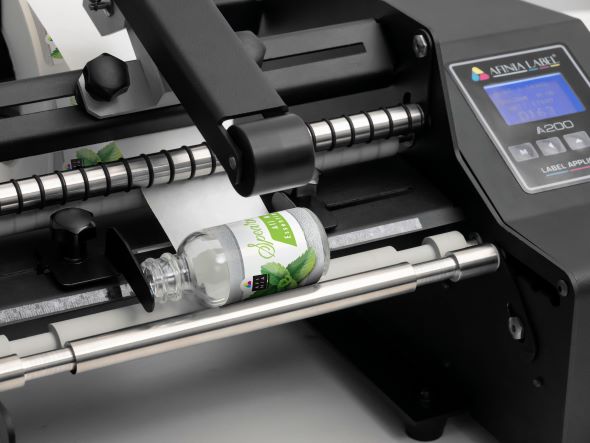 AM Labels LimitedAdded to its portfolio is Afinia A200 Bottle Label Applicator, an award winning color label printing machine, label manufacturer, coding and software solutions expert based in Northamptonshire (UK).
The Afinia A200 is an innovative semi-automatic bottle labeler that is simple and easy to operate, allowing users to effortlessly apply labels to bottles, cans, jars and a range of other cylindrical containers. Thanks to its ultrasonic gap detector, the A200 benefits from high precision, efficient and consistent performance, even when using transparent materials. Furthermore, the gap detector on the A200 is much more reliable than mechanical flag sensors, common in other bottle label applicators.
The compact labeling machine can accommodate a variety of bottles, cans, and bowls, with diameter from 25mm to 160mm and height from 80mm to 240mm. To make it easy to apply smooth, straight, perfectly spaced labels without bubbles or wrinkles, the durable, affordable A200 increases productivity, as well as saves time and money, while delivering consistent, reliable results. The applicator is compatible with single, front and rear decals, and for added ease of use, decals can be applied with a simple push of a button or via the included foot pedal.
With the ability to apply labels to up to 600 bottles or containers per hour, AM Labels says the A200 is ideal for use in a variety of industries and applications, including companies operating in the retail, food and beverage, health and beauty sectors. Designed to enable users to precisely apply labels to their chosen container, the applicator is extremely flexible, easy to adjust and very competitively priced compared to other similar models in the market.
The improved mechanical design of the A200 is user friendly and the product guide can be easily customized, allowing the label to be applied to bottles of small and large heights. The insert tool can also accommodate printing on a limited selection of tapered bottles. The A200 also benefits from an intuitive color display that displays status information in a clear and concise manner, with users able to program in up to 29 formats, including the gap between the front and back labels.
Brendon Bass, Director of Sales and Marketing, AM Labels Limited commented: "We are delighted to expand our portfolio with this new and innovative product. The Avinia A200 Bottle Label Applicator allows companies, operating in a range of industries, to easily, efficiently and evenly apply labels to their chosen bottle or cylindrical container, providing professional and consistent results, every time.
"The A200 was developed to provide a solution to common problems that can occur when operating label applicators with mechanical gap detectors, such as a metallic flag subject to damage or a buildup of adhesives. The ultrasonic media sensor on the A200 can detect gaps in a wider range of media types, This provides increased levels of accuracy and ease of use, while eliminating any inconsistencies that often manually applying stickers can perform."
AM Labels Limited says it has first-class technical and software expertise and excellence in customer service, in addition to its own label production facility. The company offers wide, in-depth label printer, scanning and bar coding expertise to support a wide range of industries and applications.