LOGISTICS
Warehouse automation market is booming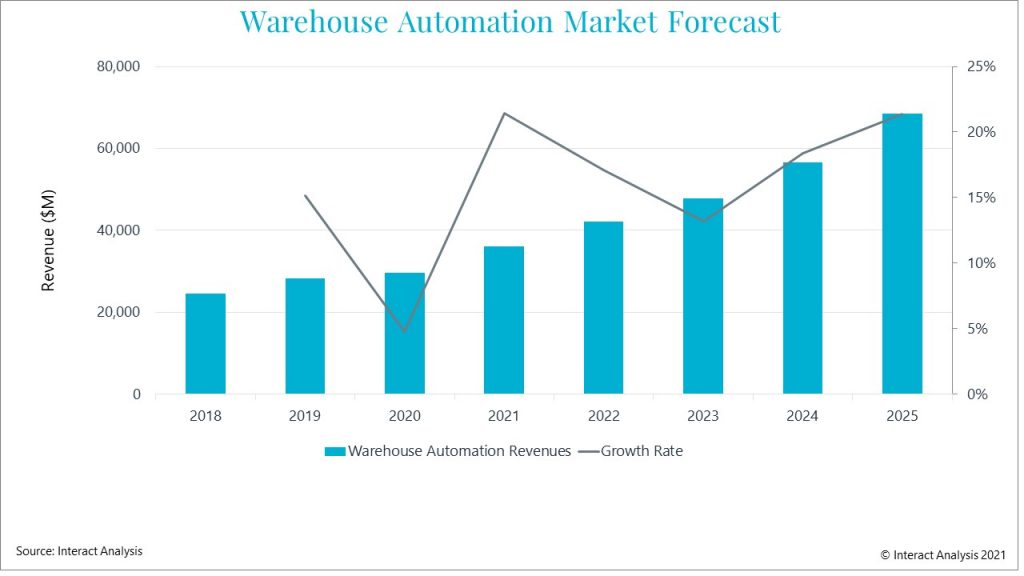 search from Interaction analysis It shows that the global warehouse automation market will grow from $29.6 billion in 2020 to $69 billion in 2025. The information was published in the latest edition of the company's global warehouse automation report.
Stationary automation such as AS/RS, conveyors and conveyor-based sorting devices will continue to be the most popular form of automation for the foreseeable future, but there is a rapidly growing trend for warehouses to adopt more flexible mobile automation solutions.
Due to the pandemic, many companies have seen their warehouse automation revenue stabilise, while order intake has increased dramatically. This was due to project completion delays and supply chain constraints. As a result, interaction analysis anticipates that the warehouse automation market between 2021 and 2022 will endure a period of stabilization as the market rebalances and catches up with the order backlog. By 2022, the market will return to normal and will experience a permanently accelerated growth rate after the pandemic.
Dematic and Honeywell Intelligrated continue to hold the largest market share. Dematic leads the way, with 10% of the market and a staggering 31% revenue growth in 2020 (compared to 14% in 2019). Meanwhile, Honeywell Intelligrated grew 13% in 2020. Interestingly, Knapp's order intake grew 55% in 2020 while its revenue fell 1% due to project delays due to the pandemic.
Driven by China and Japan, APAC holds its title of having the largest market share for warehouse automation with a market size of $11 billion in 2020. A significant proportion of the growth in the Americas, Europe, Middle East and Africa markets is expected to come from the general merchandise and grocery sectors. Interestingly, these segments are less prominent in the Asia Pacific region, which together account for 29% of the warehouse automation market (compared to 42% and 45% of EMEA and the Americas, respectively).
"The general merchandise segment is the single largest segment in warehouse automation, and is expected to grow faster than the market as a whole, with revenues of up to $20 billion by 2025," said Robyn Scriven, Senior Analyst at Interact Analysis. General merchandise is driven by companies like JD.com, Amazon, and Target, all of which have benefited greatly from the COVID-inspired e-commerce boost.
By 2025, general merchandise will make up 28% of the market. However, the fastest growing vertical market is grocery, which is expected to grow from 12% of the market in 2020 to 16% in 2025."