ERP
MOM and an inflection point for digital manufacturing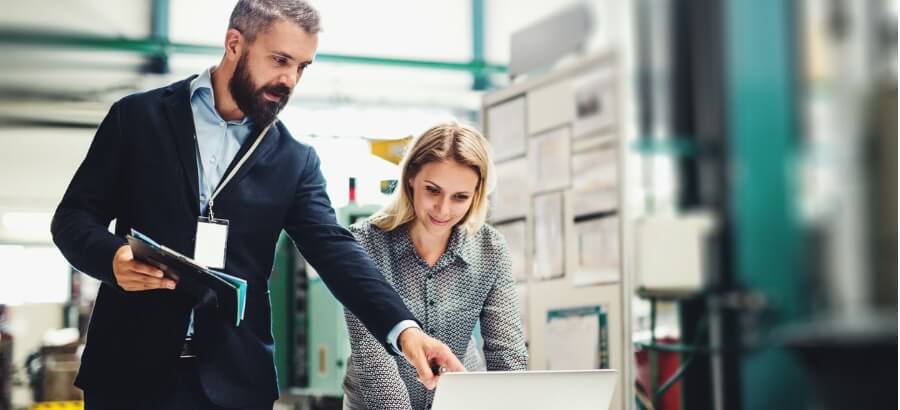 When the COVID-19 pandemic hit, some of the challenges it posed to manufacturing and distribution were new. But, in fact, it would be more correct to say that the pandemic exposed weaknesses that existed years before the public health crisis exploded. I should know. I grew up in manufacturing. My family owned one of the manufacturing operations, so I faced the challenges of middle-market manufacturers myself.
For example, before the pandemic, companies could handle analog machines, paper systems, and offline point solutions. The pandemic has made that impossible. SYSPRO Survey 2020, Reflection Point for the Factory of the FutureAnd showed that only about a third (38%) of manufacturers' business systems have enabled them to meet the challenges posed by the COVID-19 pandemic. Likewise, a 2021 McKinsey study showed that only 19% of companies that had adopted Industry 4.0 technologies were able to respond to the pandemic crisis, while 96% of those with at least some use cases scaling across sites were able to. to do that.
In metal manufacturing, for example, the industry I know best, cost pressure is putting pressure on sellers, especially as metal prices continue to rise. Margins are thin, so efficiency is an absolute must. Management has to ensure that machines are always available to maximize capacity. Scheduling must be accurate and optimized – you want to use every available minute to ensure that machines never stop working. Because any time the machine doesn't work, you lose money.
Inventory is another big headache. You always want to have the right amount of raw materials so that you can deliver customers' orders on time. But at the same time, if you have excess inventory, that unnecessarily increases costs. In my experience, the manual systems used required regular inventory checks which took a lot of time and quickly became obsolete. Making sure we had enough, but not too much stock, was always a stressful guessing game.
What all of this has led to is an inefficiency in decision making: when you rely on manual systems, you can never completely trust the information presented to you as a decision maker. Manufacturers need a single source of accurate information. Finance and production cannot work on different data sets.
Automation is one of the keys to addressing all of these issues, but integration is just as important because management needs data to monitor these systems and continually improve. Likewise, front line managers need comprehensive vision and control so that they can prevent problems on the manufacturing floor such as jams, excessive scrap, overruns, downtime, poor employee performance, or machine performance. To do this, the information must not only be digital, but also be shareable between systems.
The need for a panoramic view of the shop floor
Currently, many manufacturers are automating some tasks and relying on people to manage the remaining processes, often resulting in increased demand for human resources. This automation may provide some benefits and increase efficiency, but usually these are point solutions that don't come together to provide a clear view of the entire process.
Additionally, if data from these automated processes were confined to silos, it would be of little use. Manufacturing resources must be deployed, coordinated, and managed in a way that helps the company do what it wants to do without wasting resources. This can only be achieved with a comprehensive approach that automates the entire data collection process.
This is why a Manufacturing Operations Management System (MOM) is an exciting technology for the industry. This technology enables organizations to analyze and create accurate schedules that take resources and constraints into account, including people, machines, tools, and materials. In this way, manufacturers can ensure that they have products ready for customers on time in the most cost-effective manner while also reducing production costs.
But the system doesn't just automate and improve scheduling. It also collects data and tracks performance to provide a comprehensive view of production processes. Because legacy manual systems and offline point solutions cannot provide a comprehensive view of the manufacturing process, manufacturers are left in the dark about the ultimate causes of problems or bottlenecks. MOM provides a single source of data, which in turn enables full visibility of production.
This real-time data can inform faster and more accurate decisions about capacity, work-in-progress (WIP) analysis, inventory and advanced planning. The interconnections within production become crystal clear and continuous improvement in manufacturing processes becomes much easier to implement. In turn, this high-level insight enables management to have overall quality control and regulatory compliance. As a result, manufacturers can reduce waste, improve inventory, and reduce production time to increase efficiency, quality, and customer satisfaction.
The manufacturing industry has reached an inflection point, as digital transformation and the need to quickly track down a smarter factory will be vital to staying competitive in the coming months. I invite you to learn more about the SYSPRO MOM solution that integrates seamlessly into the SYSPRO ERP platform. It's the future of manufacturing, and it's at your fingertips today.