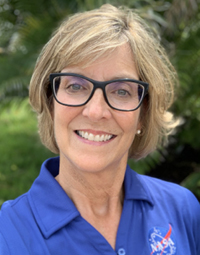 Jennifer Lyons is deputy director of NASA's Deep Space Logistics Project.
Responsibilities: Procurement of commercial services to deliver equipment and supplies to a new space platform, Gateway.
expertise: Head of Fleet and Systems Management Division, Launch Services Program; Director of Strategic Planning at the Kennedy Space Center (KSC); Deputy Director of Human Resources, KSC; NASA vehicle manager for OV-103 Discovery, Space Shuttle program; Other management roles with NASA.
education: B.Sc., Aeronautical and Oceanic Engineering, Virginia Tech; M.A., Aerospace Technology, Florida Institute of Technology; Master's in Engineering Management, University of Central Florida.
---
When I was a kid, my parents gave me Carl Sagan's book, Cosmos. That's when the space bug hit me. I was fascinated by the universe, its grandeur, and its possibilities.
During high school, I watched the first space shuttle launch on TV and noticed that there were no women in the firing room. When I mentioned this to my dad he said, "Why don't you do something about it?"
It has always been my dream to work at NASA. As soon as the employment opportunity came up, I took the opportunity to work in the space shuttle program. Each mission was unique, amazing and challenging.
My biggest career leap came when I took on challenging assignments that forced me out of my comfort zone. One example is my transition from center staff to a technical role in Launch Services, where I led the integration of launch vehicle fleets and missions, among other responsibilities. I asked myself, "What am I thinking?"
The suspense did not go away
It turned out to be wonderful. I loved getting back into my launcher, and also gaining a greater perspective on the commercial launch business model. I was there 16 years ago, and every day felt as excited as the first.
It happened again when I moved from Launch Services to Deep Space Logistics. We work with industry and commercial providers to create a viable and vibrant supply chain in the space. The idea is to create an outpost in orbit, called Gateway, which will serve as an intermediate point in lunar orbit.
Through the Gateway, which is due to be ready by the middle of this decade, we will supply equipment and goods to support the Artemis missions, which revolve around getting us back to the Moon, and then developing the technologies, systems, and human protocols we need to advance toward Mars.
This is a big step. The International Space Station operates 250 miles above Earth. Now we're talking about going into a lunar orbit closer to 250,000 miles.
At this distance, contact is delayed, and the radioactive environment is more dangerous. This has a huge impact on humans, of course, but also structures and electronics.
Today it is not like the era of Apollo. Our budget is limited. We need to take advantage of the industry and make it commercially viable for people to work and live in deep space. Our part of this is to develop the supply chain that will enable humans to maintain a permanent existence off Earth.
Just like my previous roles, this is very exciting. Although it may seem random, I feel that my career has developed naturally, and I have been fortunate to move from one great job to the next.
You can build on what you did and learn and take it to the next level. This is a life lesson that I never tire of discovering.
never give up
Outside of work, I row on a dragon boat with a team of cancer survivors, as well as on my extension boat and stand-up paddleboard.
We have a motto when you are in a race and something unplanned happens, for example, run into another boat or face rough water – you just have to keep paddling.
It's also a good mantra at work or when dealing with challenges in your personal life: "Keep on rowing!"
Jennifer Lyons answers the big questions
1. Besides Cosmos, what other books or movies have had the greatest impact on your life?
I became star Wars A fan when the first movie came out and I still love the series. The movies are exciting and the story arcs are very creative. My daughters are big fans too, and it's interesting to see these films become iconic through the generations.
2. If you could have a superpower, what would it be?
The ability to spread empathy. We are in a time and place where we need to look out for each other. If more people expect more attention and kindness, the things we can do will be amazing.
3. What would you say to your 18-year-old self?
Don't sell yourself short. Put yourself out there and give it a try. You will be amazed at what you can achieve.