LOGISTICS
Combating the shortage of logistics labor by addressing the driving factors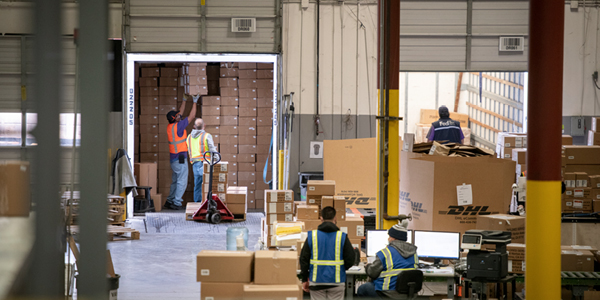 Understanding the reasons behind the logistics shortage is key to addressing it. Here are the strategies Taylored Services has implemented to combat shortages.
The US labor market is going through a crisis, with shortages in all sectors and wage levels. According to the Bureau of Labor Statistics, there are currently 9.2 million jobs, and more than 164,000 people voluntarily left their jobs in June 2021.
Despite an hourly wage increase of 4.8% this year, vacancies in logistics are at a 20-year high and account for 5.8% of jobs across all industries. While there are a variety of reasons why businesses are experiencing this shortage, the COVID-19 pandemic has certainly had a huge impact.
Explore the causes
The stimulus package is widely blamed as one of the main reasons behind the shortage. However, in only three states (Montana, North Dakota, and Wyoming) federal benefits offset lost wages, and only 3% of workers reported unwillingness to return to work as a result of unemployment benefits. It is debatable if benefits alone are the cause, but benefits are allowed for individuals to assess their current work situation and decide whether they want to continue or pursue other opportunities.
This is especially true for individuals in industries where working from home is not an option, such as logistics. Workers who want better conditions are now in a unique position to bring about change.
Minimum wages were an increasingly popular topic. The current federal minimum wage is just 41.4% of what it should be if it is properly adjusted for inflation over time. The effort to bridge this gap and address workers' demands for better salaries has led to a competitive frenzy to attract employees with higher wages and benefits than previously offered.
Finally, family commitments also have a major impact on working adults, with 1.8 million fewer women in the workforce than before the pandemic.
Basically, workers want more. They want better working conditions, benefits, wages, and flexibility. This has resulted in a situation where companies are scrambling to attract new workers with incentives, while also balancing the need to keep labor costs at a reasonable level.
Improving work levels
To minimize the impact of this shortage on normal operations, Taylored Services has implemented measures designed to motivate employees.
Taylor introduced additional wage increases, with an additional bonus for completing a full 40 hour work week. Experienced and diligent agencies are also working to supplement the in-house workforce with a growing presence. To further attract agencies to supply the most qualified workers, there are significant tax incentives to increase employment fill rates to 95%. Enhanced benefits, such as weekly lunches and gifts to improve working conditions, were also offered across the facilities. Aside from these measures, Taylor is constantly exploring ways to improve and maintain adequate levels of employment.
Companies will need to continue to adapt and respond to the changing needs and wants of their workforce. Proactive activity and a more in-depth understanding of what is important in the workplace environment will be a key strategy in the future to avoid the perceived shortage in today's market.
---

tayloredservices.com
732-750-9000
sales@tpservices.com