LOGISTICS
Your stress test – incoming logistics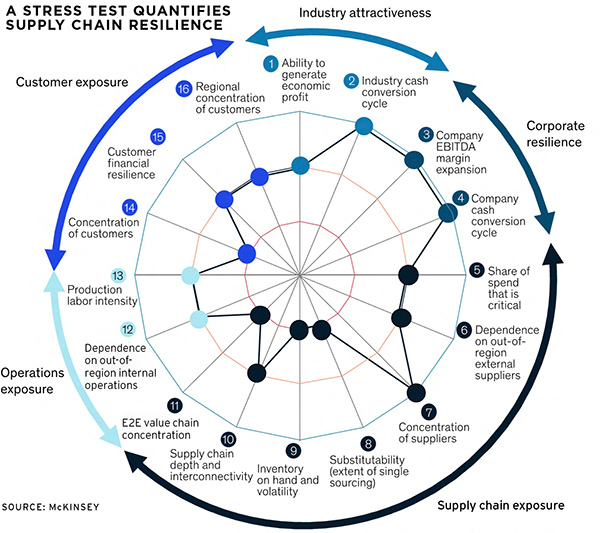 In the face of more frequent disruptions – from natural disasters to pandemic – supply chain professionals are shifting their focus to mitigating risks and assessing resilience.
After the pandemic, 93% of CEOs who responded to a McKinsey survey said they expect to increase resilience by rebalancing their supply chains, up from 70% before the pandemic.
Supply chain resilience stress testing is a key first step in assessing risk. The report advises, because risks are always changing, get the test done on a frequent basis. The stress test measures resilience across the following factors (see graph):
industry attractiveness. How successful is your industry in generating economic profit and cash transfer performance compared to other sectors?
Company flexibility. How well does your company perform on earnings and cash conversion cycle compared to similar companies?
global supply chain. What parts of the supply chain, including suppliers, can be at high risk when a major disruption occurs?
operations. What internal processes and labor pool could be severely affected in the face of major disruption?
Client. What clients may be at high risk when a major disruption occurs?