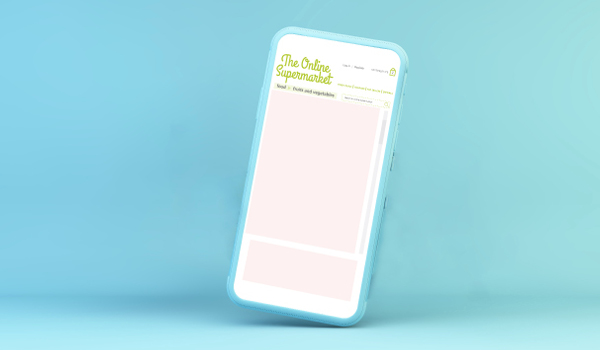 The shift to grocery e-commerce has left retailers hungry for implementation improvements and supply chain efficiency gains.
If you're like most consumers, you've likely spent a lot of time at home in 2020, spending a lot of money online. E-commerce purchases surged in categories ranging from furniture and home improvement to bikes and gym equipment.
One of the sharpest shifts has been in grocery e-commerce. Before the pandemic, 7% of grocery purchases were made online, according to a Mastercard Institute of Economics report. The pandemic has pushed online grocery shopping to 10% by the end of 2020. Going forward, Mastercard expects 70% to 80% of that shift to be permanent. This is great news for grocers who are beating their game, but it comes with a side order of supply chain challenges.
Accommodating a new deluge of orders has left grocery retailers with a mountain of fears to contend with, almost overnight. "Before the pandemic, it was 52 cents of every dollar that went to serve food outside the home," says Doug Baker, vice president of industrial relations for the Food Industry Association. "COVID has moved a lot of that business towards grocery. Online retail growth exceeded 300% in the first few months of 2020."
As a result, many of the usual grocery delivery challenges, such as temperature control and inventory management, have been amplified as order volumes increase.
Take the omnichannel. Consolidating products into a single sales channel is something that grocers have been working on for years, but the pandemic has forced them to speed up adoption. Grocers have had to quickly grow the variety of products they sell online.
"Food retailers had to move assortment that they previously only sold in stores to the omnichannel space, so they could offer everything to consumers," explains Anibal Sodero, associate professor of marketing and logistics at Ohio State University. This challenge existed before COVID, but the pandemic has compounded it.
The intensification of e-commerce catering has also meant accommodating groups of consumers who were not involved in online shopping in the past. In its Beyond the Cart: A Year of Essential Insights report, Instacart reports a 9% increase in the number of seniors who took advantage of its services between the first and fourth quarters of 2020.
"More and more people who have not previously purchased online are entering this field," Sodero says. "The challenge is to serve more people with different tastes and preferences, and different delivery requirements."
It could be a blow to the bottom line if grocery retailers aren't careful. "Depending on their strategy, it is estimated that grocery sellers could lose anywhere from $5 to $15 per order, depending on order size," says Mario D'Cruz, director of strategic planning for Honeywell Intelligrated, a materials handling automation company. and software engineering based in Mason, Ohio.
The surge in online demand has prompted grocers to raise their salaries, but maintaining an adequate labor supply since the onset of COVID hasn't been easy. Grocery retailers added 500,000 new employees from 2019 to 2020, according to a Food Industry Association report titled Receipts from the Pandemic. If food retailers were able to hire for all of their open positions, they would add another 100,000 workers to the fold.
"What grocery managers struggle with the most is increasing employment," says Michael Keck, senior director of supply chain at DHL. "During the pandemic, they needed to add more resources at the store level to pick and place orders to customers. And they had to get the labor needed for those activities during the pandemic."
But managing grocery deliveries in e-commerce isn't just about getting the optimal number of employees. Managers find ways to maximize efficiency, no matter how many employees there are. One is to use the right order fulfillment strategy.
"The most rudimentary option is to tap into stores for fulfillment," says Jeremy Nerin, CEO of GrocerKey, a company that provides e-commerce grocery technology and in-store fulfillment solutions. The employee traverses the aisles in the most efficient way, and can also divide the store into zones, reducing the steps in this way.
"They can even move fulfillment out of the store completely, into a 'dark shop' or a room with dedicated inventory," he adds. 'This strategy is not annoying to the consumer, wages is optimal to meet.'
This strategy can help reduce costs, but the grocery store is still constrained by worker efficiency. Typically, a worker can pick up only 60 orders per hour, according to data from fulfillment solutions provider 6 River Systems.
Microfillment Centers Offer Maximum Efficiency
To maximize productivity, some grocery retailers are setting up centers to cater to small businesses. These small warehouses tend to be close to consumers and house popular items that are delivered quickly. At 10,000 or 15,000 square feet, it may be smaller than your average achievement center, but the speed gains are massive.
"If you have 10 people picking up groceries on the floor today, the micro-retail can be as low as 75 orders per hour, which lowers the cost of the basket," explains Matt Inbody, the largest small business breaker at Dematic, a material handling system, software and services supplier. . "With microfulfillment, approximately 6,000 to 7,000 items are moved at a rate that in three days a retail grocery store can turn inventory over 100%."
To achieve these speeds, small depository centers use automation. In many centers, buses move up and down the lanes to retrieve merchandise. From there, the carrier brings the items to warehouse workers, who then sort them into individual orders. Some shuttles have the ability to extend racks.
The goal of automation is to reduce worker movement through a facility. "Automation is bringing items to collectors, rather than having collectors get products off shelves," Inbody says.
Overcoming the last mile
Another source of stress for e-commerce grocery delivery is the last mile. The journey from warehouse to customer's doorstep, known to be expensive and impractical, has been a headache for retailers for years. And during the pandemic, when many consumers couldn't venture into a grocery store, last-mile strategies had to keep up with e-commerce demands.
Problems such as complex roads and high costs have only accelerated. "On top of the usual challenges, the newest last-mile challenge is keeping up with speed and size," says Baker.
To meet these challenges, some retailers are turning to third-party delivery services. Companies like InstaCart, Shipt, or UberEats can take some of the pressure off grocers to run their own fleets in-house.
"Third-party delivery services are able to scale a lot faster because they use the assets of their driver communities," Keck explains. "This shifts the financial burden off the grocer."
The other option was not to deliver groceries to customers but to bring customers to groceries. Buying online at the store, or BOPIS, allows customers to pick up the groceries they order over the web, thus eliminating concerns about temperature control or delivery windows. In March 2021, BOPIS grocery sales reached $7.1 billion, according to a Brick Meets Click/Mercatus Grocery Shopping Survey.
BOPIS offers a plethora of benefits to grocery retailers. "Drive-up is the most effective and important delivery method for many grocery retailers," says David Bishop of retail consultancy Brick Meets Click. "It eliminates last-mile issues created with home delivery or shipping methods. It also creates an opportunity for an unplanned trip to the store."
Ensuring a sufficient number of capture windows is essential to the success of BOPIS. There are several ways to do this.
"The main way to solve capacity constraints is to increase the ability to fulfill more orders over the same time period," Bishop says. "Retailers can achieve this either by adding more staff for order aggregation or by improving business productivity through improved collection practices."
Grocery's next frontier lies in new technologies. For example, in December 2020, Walmart announced that it would operate fully self-driving vehicles for order delivery on certain mid-mile routes in 2021. Prior to this announcement, the retailer had conducted pilot trials of autonomous trucks in partnership with Gatik, a vehicle Without driver start. Currently, Walmart plans to operate driverless vehicles between a dark store and the Walmart location in Arkansas.
Recently, Kroger announced that it will test delivery of the drones at a site in Centerville, Ohio. Working with drone company Drone Express, the grocer will deliver small packages (weighing under 5 pounds) to local residents, using customers' GPS coordinates. Customers have the option to order individual items, or prepackaged packages in categories like S'Mores or Baby Care. Orders can reach the consumer in less than 15 minutes.
"Once the order is placed, Kroger sends it to our order management platform, and we see the GPS coordinates locating the customer's home," explains Beth Flipo, Drone Express's chief technology officer. "The customer receives real-time tracking and can change location if they wish.
"Let's say they want to deliver an order to the driveway and not to the lawn," she adds. "They can change it and save it forever."
This new development will enable customers to order groceries anytime and anywhere. "The best part about drones is that they're one package at a time, so you're no longer anchored in your home," says Flipo. "You can place an order and it will know where you are based on where your phone is."
Grocers have a lot in the online retail world.