OUTSOURCING
Computools is listed in Clutch as the best service providers of IT Association of Ukraine
Computools was recently listed first on the Clutch platform that was created in collaboration with the IT Ukraine Association. B2B platform Clutch builds ratings and reviews for leading IT service companies and now IT Ukraine Association is its partner in Ukraine. To provide businesses looking for a trusted IT executive for their project, Clutch and Association has started a new web portal.
As a leading provider of IT services at the regional level, Computools aims to provide powerful and efficient customized software solutions. Over the years, the company has accomplished a lot of challenging tasks guiding clients to their business goals and success. Computools operates with a deep understanding of customer needs and always strives for cost-effective, robust and advanced solutions. The main value of Clutch is that it takes into account this information, as well as reviews of real customers, comparison of competitors and, as a result, gives an honest and objective assessment.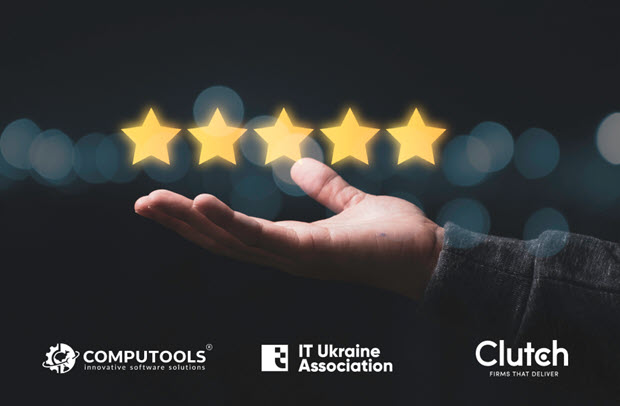 Computools' strong positive reputation is proven by Clutch's list and fully satisfied customer and partner testimonials. Obtaining this rating is an additional confirmation of the reliability and stability of the company.
It may seem that the Clutch and IT Ukraine Association platform will be useful to the participants only because it helps to build trust in their brand and generate leads. However, the real evaluation value in the benefits to customers. With such a trustworthy source, it becomes easier to choose a company that is well suited for the implementation of the business idea. Now there is an opportunity to study the experience of the company through the example of its cooperation with others, to assess their ability to solve challenging problems, work behavior, and interaction.
One of Computools' goals is to expand opportunities and forge profitable partnerships with companies around the world. Membership in the Association of Information Technologies of Ukraine opens up new channels for the company to interact with potential customers. The new top list will allow the company to offer its services and capabilities to a wider audience.
Moreover, the company regularly participates in the activities of the association, including government IT initiatives, conducts training webinars, and in every way shares its experience gained in the process of developing software solutions. The ability to showcase its expertise in a variety of industries and technologies makes it possible to expedite the creation of new partnerships.