ANALYTICS
Partial container export in Google Tag Manager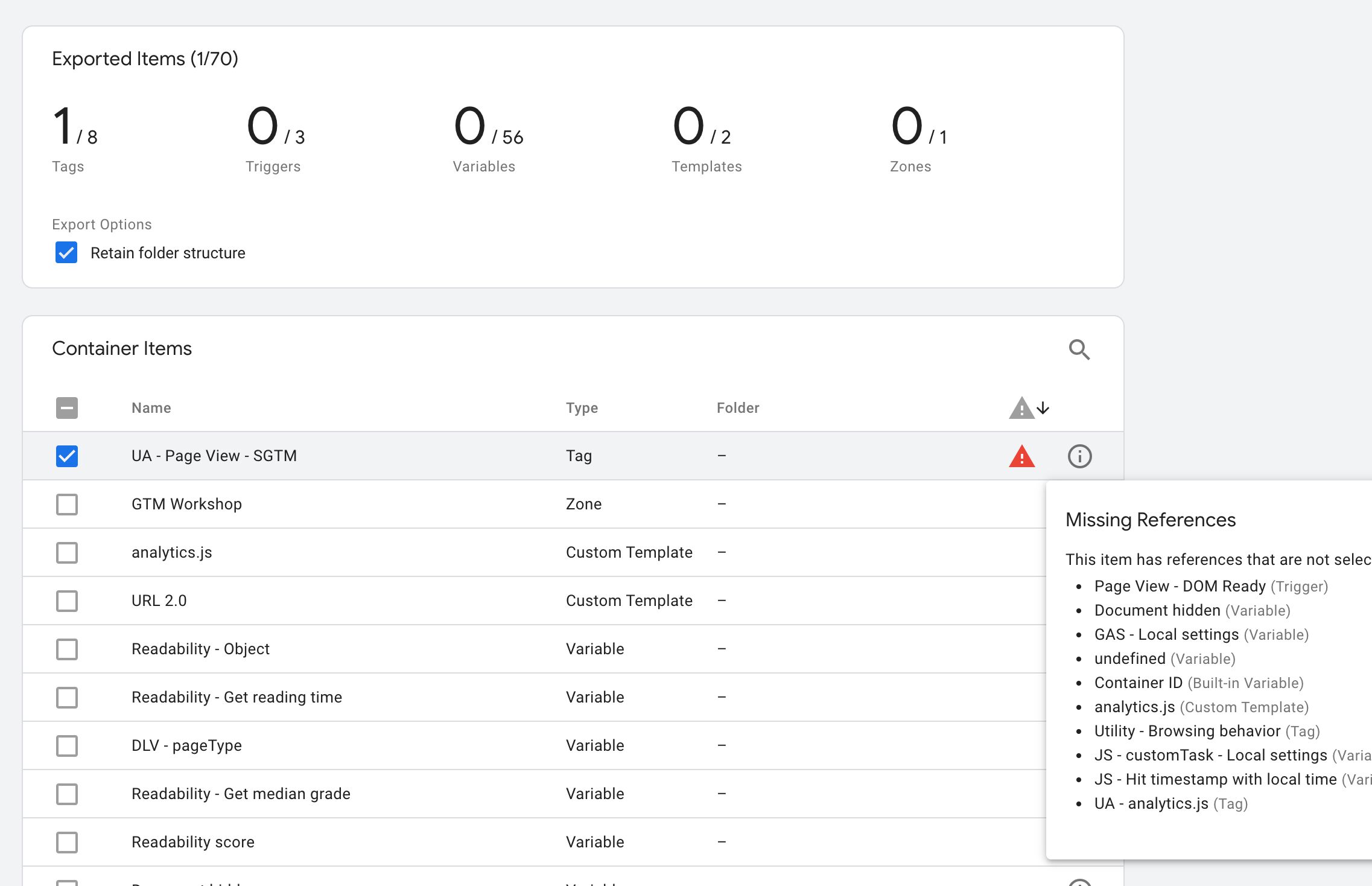 Exporting a container in Google Tag Manager can have many purposes. From backing up Google Tag Manager versions to creating and distributing useful container snapshot repositories, container export is one of the most useful non-tag-related tools that the GTM user interface has to offer.
However, there is a huge doubt about the feature (so far) that is to export a file subgroup From the container version or workspace it was impossible. It's always a file entire container or nothing. If you want to remove parts of the export before importing it into another container, you will have to do JSON surgery of the contents, removing all unnecessary or sensitive items before sharing the export file.
Well, Google Tag Manager is now introduced partial export Functionality in the container export feature.
Partial export allows you to choose Only the items you want. It also warns you if you are about to export items Without including all references, offers an easy way add everyone Option to add all dependencies at once.

X

Simmer . Newsletter
Subscribe to the Simmer newsletter to get the latest news and content from Simo Ahava right in your inbox!
How it works
click to Supervisor into the container, and select export containers From the list of options at the bottom of the container.
In the first overlay that appears, you can choose a file Workspace or a Issuance To export information from .
Currently, there is no way to mix and match – you can only select items from a single workspace or container version.
In the next overlay (the actual export view), you have the following options at your disposal.
You can select or deselect Single items one by one.

You can select or deselect all the subjects through once.

You can choose Keep folder structure. If items are in folders, the respective folders are also exported, and links between items and their folders are preserved.

Could you research Through the elements to improve accessibility.

Could you open details for all elements (except for built-in variables).

Could you preview What the export JSON file will look like with the current selections.

Could you issue (Download) the translated JSON file of your choice.

Could you Add all missing dependencies through once.

Could you Add Missing dependencies item by item.
To run the tool is dead simple. Simply select the item(s) you want to include in the export, then click on either of them JSON preview or issue. The first lets you look at the JSON before downloading it, and the second lets you download it right away.
dependency graph
If you try to preview or export JSON, And You select the items that have dependencies (eg, linked operators, variable references, tags in a sequence), And You are Not all dependencies are specified, you will see the following warning:
if you choose issue (or preview If this is your original action), you will proceed with the action regardless of the missing references.
if you choose Eliminates, new warning about Missing references It appears in the overlay, and you'll also see a new column in the table, which lets you sort items by the missing dependency warning.
Note that the dependency schema appears only for items you've tried to export or preview, not for all items in the version or workspace. You need to actually select the items and try to preview or export them to trigger the warning and display the missing references.
If you click the warning triangle in the table column for an item with missing references, a popup will open showing you what those references are and letting you select them all at once.
This is a great way to make sure that you don't inadvertently export a subset of the container but end up losing many of the bits and pieces needed to make the selected elements work.
summary
As far as quality of life improvements go, that's pretty good.
Selective export of a Google Tag Manager container is vital to many workflows, as it allows you to do things like keep your staging and live environments in sync, compile your favorite collections repository, and ensure that no sensitive information is mistakenly shared when exporting and importing container JSONs.
There are a couple of features that may be useful in the future, such as the ability to mix and match across container versions and workspaces, and the ability to review dependencies. before Run the export.
But as it stands, I think it's a useful feature that will make many Google Tag Manager users really very happy.